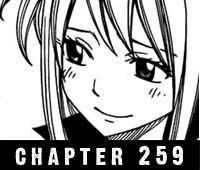 Alternative Name
: フェアリーテイル; 페어리 테일; 妖精的尾巴(魔道士); Fairytail; Fearī Teiru; FAIRY TAIL魔導少年; Ogon Wróżki(Polish);Tündérfarok(hungarian); Приказка( Български ); Eventyr (Danish); Saga (Swedish); Basm/Poveste/Coada de Zană(Română); ذيل جنية (arabic); Xứ Thần Tiên (vietnamese); Fėjos uodega (Lithuanian)
Years of Released
: 2006
Status
: Latest Chapter 259, Ongoing, Fairy Tail 270 271 272 is coming next...
This Series Is Released Weekly
Author(s)
: Mashima Hiro
Artist(s)
: Mashima Hiro
Genre(s)
: Action, Adventure, Comedy, Drama, Fantasy, Shounen
Type
: Japanese Manga (Read from right to left.)
Summary
Celestial wizard Lucy wants to join the Fairy Tail, a guild for the most powerful wizards. But instead, her ambitions land her in the clutches of a gang of unsavory pirates led by a devious magician. Her only hope is Natsu, a strange boy she happens to meet on her travels. Natsu's not your typical hero - but he just might be Lucy's best hope. Fairy Tail won the 2009 Kodansha Manga Award for shounen manga. It has also won The Society for the Promotion of Japanese Animation's Industry Awards for best comedy manga. This blog for reading
Komik Manga Fairy Tail Bahasa Indonesia
free/ gratis no download no registration to reading here.
Related Tag
: baca manga fairy tail bahasa indonesia, baca manga indonesia, baca komik manga fairy tail, komik fairy tail bahasa komikindoku, komik fairy tail terbaru, manga fairy, manga terbaru fairy tail indonesia komikindoku, fairy tail raw manga, scanlation indonesia, download scanlation bahasa fairy tail, chapter fairy tail terbaru bahasa indonesia.